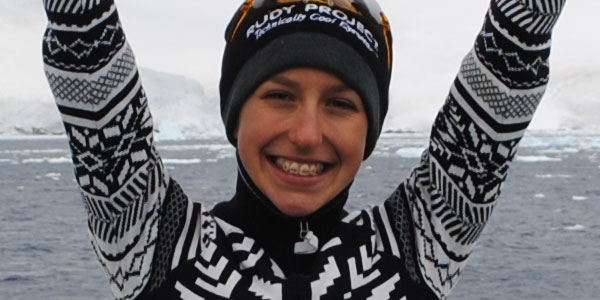 Winter Vinecki
Marathon Runner, Triathlete, Aerial Skier, Obstacle Course Racer, and Founder of Team Winter
Winter Vinecki is only 18 years old and an extremely accomplished athlete and competitor. Winter began racing triathlons at the age of five and completed her first Olympic distance triathlon at only nine years old. She went on to become a two-time national IronKids Champion and Junior Spartan Race Champion. Recently, Winter became the World Record Holder as the youngest person to run a marathon on every continent and the youngest person to run 26.2 miles on Antarctica.
In addition to triathlon and marathon accomplishments, Winter is a highly competitive Freestyle aerial skier. After meeting an Olympic aerial skier at an event in 2011, Winter was convinced to try out for the Fly Elite Freestyle Aerials team in Park City, Utah. At the end of a week-long camp, Fly Elite decided to sponsor Winter as a 2018 Olympic hopeful in Aerials Freestyle.
After losing her father at the age of 9 to an aggressive form of Prostate Cancer, Winter formed teamwinter.org, a non-profit to raise money for Prostate Cancer research and awareness. She's raised over $400,000 toward that effort, and counting. Each first place trophy Winter receives is sent to a person affected by Prostate Cancer as a means of support and a gesture of goodwill.
Winter currently resides in Park City where she is a member of the Fly Elite Freestyle Aerials team, and has her sights set on the 2018 Winter Olympics. While maintaining nearly all A's in Stanford University's online high school program, EPGY, Winter travels frequently to races in which she, her three brothers and her mom bring awareness to Prostate Cancer and Team Winter's mission.
Career Highlights
2014, World Freestyle Championships, 5th place, Valmalenco, Italy
2013, youngest person to run a marathon on all seven continents
2013, XTERRA LaGrande, 4th Place overall female & 1st Place 19 & under, LaGrande, OR
2013 Spartan Race- Utah Beast, age group elite winner & 18th place overall female elite, Midway, UT
2013, The Inca Trail Marathon to Machu Picchu, women's overall winner & course record, Cuzco, Peru
2013, St. George Triathlon – Olympic Distance, 1st place female 19 and under, 12th overall female
2013, new world record – youngest person ever to complete a marathon in Antarctica, Marathon Tours Antarctica Marathon, King George Island, Antarctica
2013, NorAm Cup Aerials Junior Division Comp #1 1st Place/Comp #2 1st Place, Lake Placid, NY
2013, Division Championships Aerial Utah Olympic Park, Comp #1-1st place overall female, 1st place age-group/Comp #2- 2nd place overall female, Utah Olympic Park, Park City, UT
2013, Erica Knell Aerials, overall female event winner (3 Firsts and 1 Second Place Finish), Utah Olympic Park, Park City, UT
2012, Columbia Super Continental Olympic Cup Freestyle Aerials Competition, 10th place overall female, Utah Olympic Park, Park City, UT
2012, Amazing Maasai Marathon (2nd marathon in Winter's World Marathon Tour), 3rd place overall female, Kenya, Africa
2012, Avia Wildflower Triathlon- Olympic Distance, 6th Place 24 & Under, 60th overall female, Monterey, CA
2012, Eugene Marathon 4th Place 19 & Under, 219th overall female (1st marathon in Winter's World Marathon Tour), Eugene, OR
2012, IronCare Splash & Dash 750m Swim/5km Run, 1st overall female, 3rd place overall male/female, Lake Phoenix, AZ
2011, Humboldt Redwoods 5k, age group course record & 1st place overall female, Humboldt Redwoods, CA
2011, HyVee IronKids US Championship National Champion, 1st place, West Des Moines, IA
2011, IronKids Alpharetta, 1st place, female age 13, Alpharetta, GA
2011, IronKids Avon, 1st place, female age 13, Avon, CO
2011, IronKids Rochester, 1st place, female age 13, Rochester, MN
2011, IronKids Round Rock, 1st place, female age 13, Round Rock, TX
2011, IronKids San Diego, 1st place, female, San Diego, CA
2011, Age 13 Eugene Half Marathon, 1st place, female age 19 & under, Eugene, OR
2011, IronKids Oro Valley, 1st place, female age 13, Oro Valley, AZ
2010, USATF Region 13 Junior Olympics Cross Country, 24th place, midget girls division 3000 meters, Oregon City, OR
2010, Marin County Triathlon, Olympic Distance, 2nd place 19 and under, 51st Place overall female, Marin County, CA
2010, 32nd Annual Humboldt Redwoods Half Marathon, course record, 12 and under (previous course record set in 1988), 1st place female 12 and under, 32nd place overall female, Humboldt Redwoods, CA
2010, IronKids National Championships, National Champion, 1st place, female 12 year-old (fastest female bike split overall), St. Petersburg, FL
2010, IronGirl Lake Tahoe Sprint Triathlon, 1st Place female 14 and under, 19th overall female, South Lake Shore, CA
2010, IronKids Alpharetta, 1st place, female age 12, Alpharetta, GA
2010 USA Triathlon Youth National Championships, 6th place, female age 11-12, San Diego, CA
2010, IronKids Boulder, 1st place, female age 12, Boulder, CO
2010, IronKids Raleigh, 1st place, female age 12, Raleigh, NC
2010, IronKids Round Rock, 1st place, female age 12, Round Rock, TX
2010, Marin County Half Marathon, 1st place, female 19 & under, 23rd place overall female, Marin County, CA
2009, USATF Region 13 Junior Olympics Cross Country, 25th place, midget girls division 3000 meters PR, Spokane, WA
2009, USATF Oregon Association Junior Olympics Cross Country Championships, 10th place, midget girls division 3000 meters, Sandy, OR
2009, 31st Annual Humboldt Redwoods Half Marathon, 1st place female age 12 & Under, 60th place overall female, Humboldt Redwoods, CA
2009, IronKids National Championships, 4th place, female age 10, Tucson, AZ
2009, USA Triathlon Youth National Championships, 19th place, Female Age 11-12, Colorado Springs, CO
2009, IronKids Carmel, 1st place, female age 10, Carmel, IN
2008, Athletes for a Cure Triathlon- Olympic Distance, 3rd place female 19 & under, 153rd overall female, Disney World, FL
2008, USA Triathlon Youth National Championships, 10th place, female age 9-10, Colorado Springs, CO
Special Awards and Accolades
2014 Massachusetts General Hospital Cancer Center "The One Hundred" Honoree
2013, First winner of the Sarah Burke Foundation's "Up and Coming Scholarship Award"
2011, Recipient of the ANNIKA Inspiration Award from the Women's Sports Foundation
2010, 1 of 10 winners of the Kohl's Kids Who Care Scholarship Program
2008, Prostate Cancer Foundation Everyday Hero recognition